City creates 'guide' to attract new developers to Buffalo | News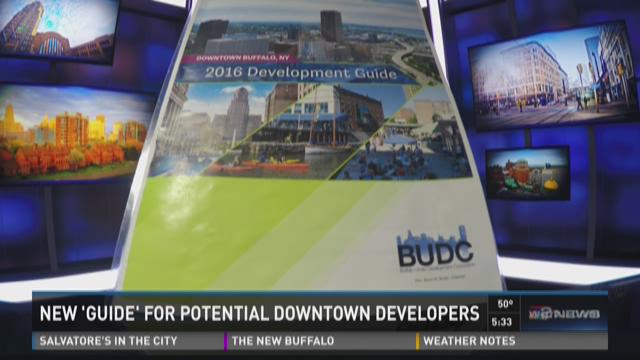 BUFFALO, N.Y. -- With more than $5.5 billion in economic development happening in Buffalo, city leaders have a new tool to try to keep the momentum going.
Brandye Merriweather, vice president of downtown development at the Buffalo Urban Development Corporation, showed off the recently-completed "2016 Development Guide."
"The guide puts together a lot of the critical pieces of information that (developers) would need in order to make that decision," Merriweather said.
The guide is 12 pages long and starts with success stories like HARBORCenter, Conventus and the new Delaware North headquarters.
It's also packed with statistics about the benefits of downtown, such as the population growth, availability of affordable living and office space and how 12,000 additional jobs are in the works over the next few years.
"We want to be very aggressive about continuing developing in the City of Buffalo," Mayor Byron Brown said.
The guide also includes a list of 24 sites that are ready for development, and it lays out incentives -- including tax breaks and other programs -- for developers to come here.
The guides are at the printer now and should go in the mail within the next week or so, Merriweather said. They'll be delivered to nearly a thousand developers across our region, the country and even internationally.
Merriweather said the work doesn't stop once the guides are delivered.
"We'll be doing a lot of follow-up, a lot of outreach to these firms," Merriweather explained. "We'll be hosting some of them. We'll be doing some site visits, et cetera. So we're really looking to be very, very aggressive and proactive with respect to our outreach."

You can see the guide for yourself by clicking on this link.